Tickets and informations - FB
FLORENCE BIENNALE
14 - 22 OCTOBER, 2023
Fortezza da Basso
Viale Filippo Strozzi 1, Florence FI
Opening Saturday 1411 am
Office hours:
From Monday to Friday

9 am to 5 pm

Saturday and Sunday

Closed
XIII Florence Biennale
23 - 31 October 2021
Fortezza da Basso, Florence
Reduced price € 7
Over 65, under 30.

Cardholders: Firenze Welcome Card, Studenti della Toscana, medical and health personnel with badge or other document, COOP, CNA Toscana, ADI, MuDeTo, taxi receipt holders 4390 and 4242.

Tickets or season tickets holders: Fondazione Zeffirelli, Maggio Fiorentino, Museo del Tessuto di Prato, Museo Galileo, Palazzo Strozzi.

Voucher holders: Moleskine newsletter, Teelent platform artists (with appropriate voucher).
Free

Children under 6, visitors with disabilities and their carers, tour guides displaying professional ID, journalists with prior accreditation, MuDeto partners, holders of a free ticket to be converted at the ticket office.
The titles that entitle to a reduction must be exhibited to the control staff.

Only holders of a valid Green pass or equivalent certification will be allowed into the exhibition. This measure does not apply to children under the age of 12. Find more information in our webpage Open in safety.

Opening Hours
The exhibition is open to the public from 23 to 31 October 2021, every day including public holidays, 10 a.m. - 8 p.m., closed on Monday 25. Last admission is permitted up to one hour before closing time. The ticket office is open daily from 10.00 to 19.00.
Reservation and advance sales
We would like to remind you that, in accordance with the COVID-19 measures to limit the risk of infection, admission to the exhibition is limited in number and time.
In order to ensure direct access to the exhibition without going through the ticket office and to minimise waiting times, it is strongly recommended that you purchase your ticket online.
Please note that you can buy your ticket online.
You can also purchase your ticket at the Fortezza da Basso ticket office on the day of your visit.

Info and reservation
Tel. +39 055 32 49 173
From Monday to Friday 10 am - 6 pm
info@florencebiennale.org

We would like to remind you that in the exhibition halls it is forbidden:

- to carry large bags and backpacks;
- bringing in big animals (with the exception of dogs assisting visitors with disabilities, which are of course welcome), if small they must be kept in carriers or carried;
- bringing in food and drink;
- filming;
- taking photos with a flash, tripod or selfie stick;
- to touch the works.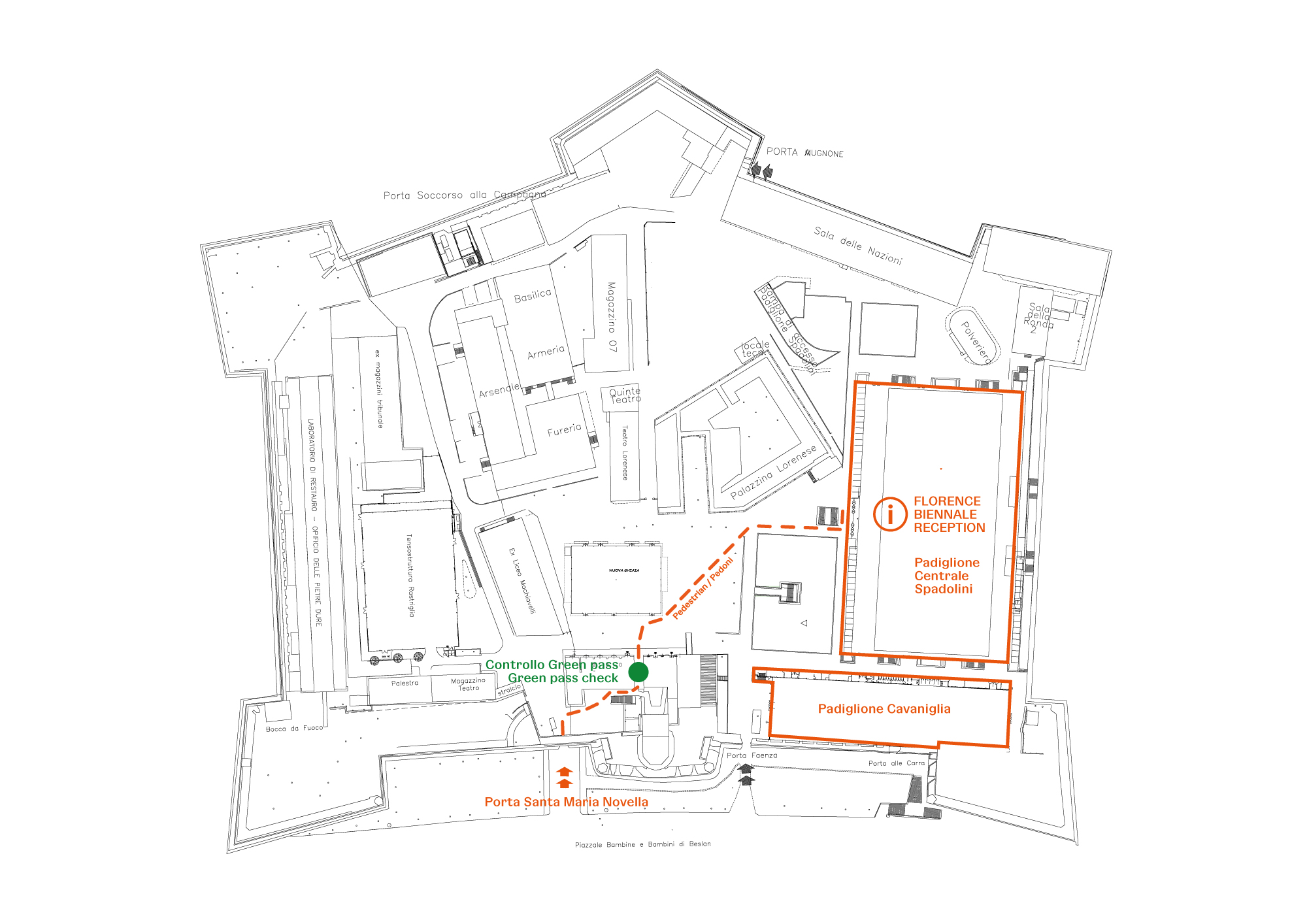 Opening hours
Saturday 23, 11:30 am-8 pm
Everyday, 10 am - 8 pm
Monday 25 October - closed
Sunday 31, last entrance 6 pm

Events calendar
GREEN PASS

We kindly ask you to facilitate control operations and advise you to arrive with your online ticket, which can be purchased on the website https://www.ticketone.it

Important! As provided for by the Decree Law 23 July 2021, n. 105 "Urgent measures to address the COVID-19 epidemiological emergency and for the safe exercise of social and economic activities", from August 6th to December 31st, access to cultural and recreational activities (cinemas, theatres, cultural places, indoor or outdoor venues for events such as concerts or other kinds of events) will be granted only to individuals, aged over 12 years, with a COVID-19 Green Certificate (Green Pass).

For further information on the COVID-19 Green Certificate visit the official website and discover:
What is the Green Pass - COVID-19 Green Certificate
https://www.dgc.gov.it/web/checose.html

How the Green Pass works - COVID-19 Green Certificatehttps://www.dgc.gov.it/web/comeFunziona.html

How to get the Green Pass - COVID-19 Green Certificate
https://www.dgc.gov.it/web/ottenere.html