The Street Art that empowers women
Lediesis is a female duo of Florentine street artists now known throughout Italy. Their goal is to pay homage to female figures who have inspired and still inspire the new generations. Even if their first works started to appear in the urban space of Florence only three years ago, in March 2019, Lediesis became well known to the Italian public. Since then they works were displayed at the Archaeological Museum in Naples, at MAD in Firenze, at Museo Civico in Bari and in many Italian galleries.

Their paste-up appeared on the walls of numerous Italian cities: from Florence to Venice, from Rome to Milan, from Bologna to Bari, from Naples to L'Aquila. During the last three years, Lediesis' Superwomen became an inseparable part Italian artistic heritage. Their works treat serious and important matters with lightness and fun. They talk about gender equality and human rights.

Their desire for change determines their painting and dictates the choice of their protagonists: free and enlightened women who send positive message of personal growth facilitating the spiritual growth of our societies. Each heroine has left a heritage in her particular field, an example to follow and thoughts to be remembered, shared and honoured. Also they choice to paint on their chests the flaming Superman's S, an iconic symbol of a male superhero, because they wanted to play, overturn and dis- identify the traditional gender roles. All of their superwomen wink at the passers-by who can stop to look at them and establish an intimate, friendly and complicit relationship with them.
LeDiesis participate in the XIIIth Florence Biennale as Guests of Honour and Winners of the "Lorenzo il Magnifico" Award from the President for their important contribution to the redefinition and dissemination of an idea of femininity capable of breaking down stereotypes and stimulating reflection on gender identity. Through the commendable artistic production of the Superwomen, they have become part of the artistic heritage of Florence and, through the web, of the whole world, they have spread an original image of femininity, which transmits strength and irony, acting as a source of inspiration also for the new generations.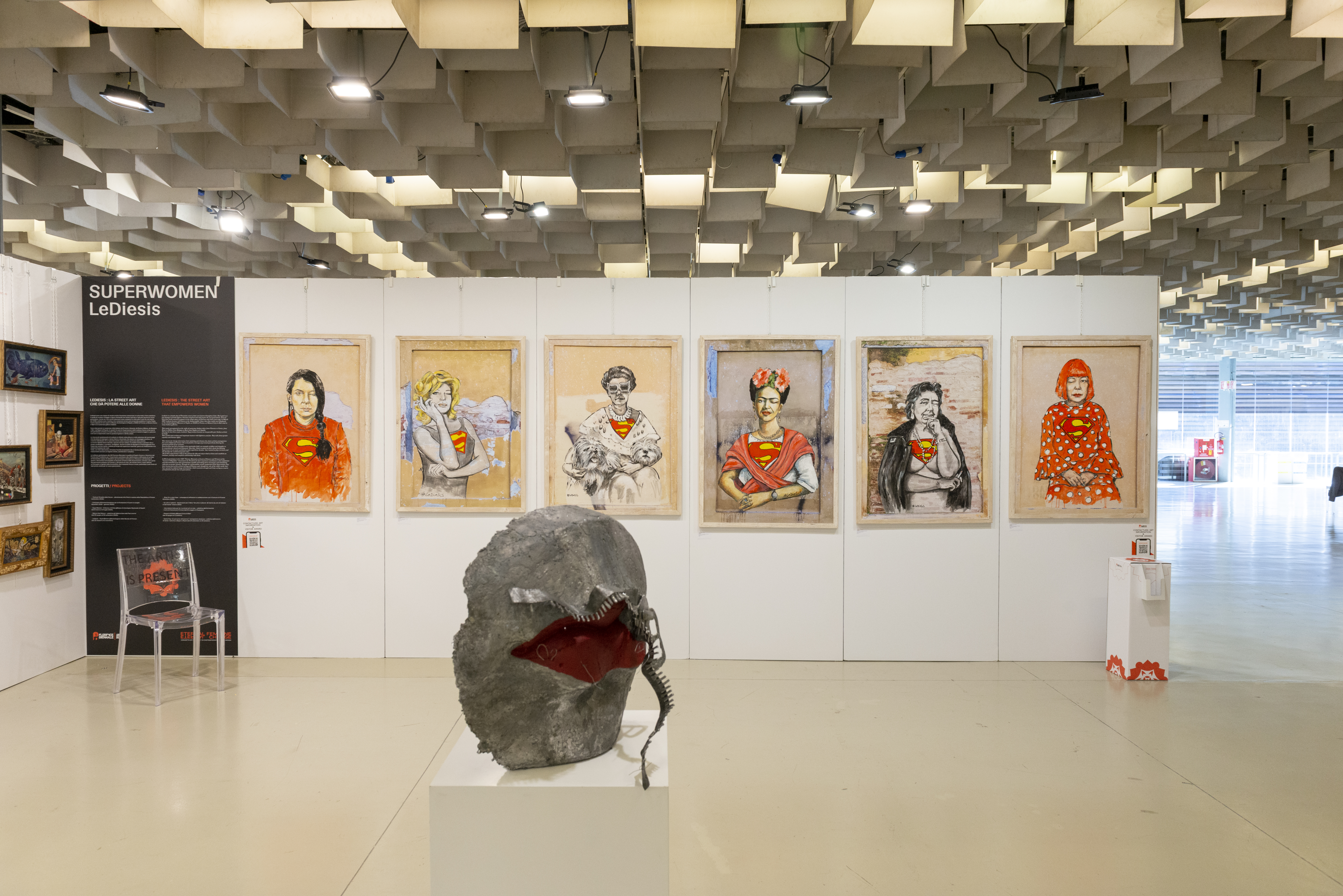 PROJECTS
- Festival l'Eredità delle Donne - allestimento Info Point in piazza della Repubblica a Firenze (settembre 2019);

- Campagna #ilmomentoèadesso per la Fondazione il Cuore si scioglie (dicembre 2019 - gennaio 2020);

- SuperWomen - 8 Donne x 8 Città @Museo Archeologico Nazionale di Napoli (dal 6 marzo al 14 luglio 2020);

- Nature Has Nature - collettiva @ Galleria Uovo alla Pop Livorno (dal 20 giugno al 20 settembre 2020);

- Lediesis - SuperWomen @Semiottagono delle Murate di Firenze (dal 22 ottobre al 5 novembre);
- Stop for a new hope - campagna di affissioni in collaborazione con il Comune di Firenze (dicembre 2020);

- Un urlo ci salverà - illustrazioni per il libro "Un urlo ci salverà. 10 storie da urlo di italiane in Germania" (marzo 2021);

- Una stanza tutta per lei. La street art in rosa - collettiva @Informacittà - L'arte di Comunicare Firenze (dal 21 maggio al 13 giugno);

- Polvere di Stelle @Museo Civico di Bari (dal 24 giugno al 3 ottobre);

- Dante Pop. Un percorso attraverso l' immaginario dantesco- collettiva @Oratorio di Santa Caterina a Bagno a Ripoli (dal 24 settembre al 24 ottobre).